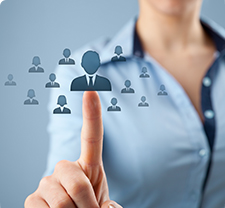 Consultative Technical Sales
With these solutions: Integrated Circuits - Digital & Analog, ASSPs, FPGAs/PLDs, ASICs, Full Custom Chips, Memory, Displays, Power, Boards, Systems and Software, we help our stakeholders succeed. We have solutions that help our customers stay competitive, and we have a process that enables our clients to experience YOY growth that is second to none. OEM, Customer, Territory and Engineering experience allow us to represent our clients and service our customers well.
With cost effective solutions, we enable our customers to win at every level from working designs to increasing market share. Our synergistic products allow drop in development, semicustom or full custom designs depending on requirements. We have solutions at every level from reputable firms with disruptive technologies that provide our customers a competitive edge.
SiFore's goal is to help our stakeholders succeed. This can range from successfully helping our customers understand technology to make informed decisions to growing revenue and SAM/TAM for our clients.
We are consultants for both our clients and our customers. We bridge the technology gap to ensure a successful partnership with our stakeholders. We are essentially one team where every customer and client are equally important.
On-Site &
Remote Solutions

Email, Phone, Cell, In Person - We are available to help.